Peter Pace to be Replaced as Joint Chiefs Chairman
I have seldom – if EVER – done more than one post a day. However, news that the current Chairman of the Joint Chiefs of Staff – Gen. Peter Pace – is to be replaced, prompted me to amend that self-imposed stipulation just this once.
Earlier today, U.S. Defense Secretary Robert Gates announced that he would advise the President not to renominate Pace, citing what he [Gates] anticipated would be a "contentious" confirmation process on Capitol Hill.
Peter Pace was appointed by the current U.S. President – George W. Bush – in 2005 and is the firs U.S. Marine to hold the rank of Chairman of the Joint Chiefs of Staff. Pace made news when – in March of 2007 – he made the following remarks in a discussion with the editors of the Chicago Tribune:
"I believe homosexual acts between two individuals are immoral and that [the U.S. military] should not condone immoral acts...I do not believe the United States is well served by a policy that says it is okay to be immoral in any way...As an individual, I would not want [acceptance of gay behavior] to be our policy."
Honestly, I know people of a right-leaning political persuasion are going to think me a hypocrite for even POSTING this – especially since it followed my post on Isaiah Washington's firing from Grey's Anatomy. However, I propose this: Isaiah Washington is an actor – an entertaiiner – whereas Peter Pace actually holds a position in the upper echelons of the U.S. government; the two couldn't be more incomparable. As a celebrity, Isaiah Washington only has as much power as is lavished upon him by his fanbase. Peter Pace – on the other hand – is an appointed U.S. Federal official and is directly accountable to ALL the U.S citizenry – be them gay or straight. More, Pace has a directive in the lives and deaths of many Americans – both soldier and civilian; a person in his position – one lauded to be symbolic of America – has no call to label ANY group as "immoral".
Categories: Peter Pace; Robert Gates; Isaiah Washington; George W. Bush; homophobia
Posted at 08:10 pm by
Mervin Malone
Permalink
Isaiah Washington Not Returning to "Grey's Anatomy"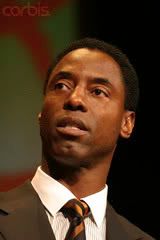 Grey's Anatomy star, Isaiah Washington, will not be returning to the show ['Anatomy] next season. ABC Studios declined to renew Washington's contract for the show's upcoming fourth season. The actor [Washington] had been on the defensive since January following an incident wherein he used an anti-gay slur backstage at the Golden Globe Awards – ironically while denying that he'd previously used the slur on the set of 'Anatomy against castmate, T.R. Knight. Washington followed the incident with taped public service announcements for GLAAD, as well as the Gay, Lesbian and Staight Education Network.
As I've stated in a previous post on Isaiah Washington, I feel that firing people for what they've SAID begins a dangerous precedent. However, I don't feel that well-known persons should be given the easy option of charitable PR work as a safety net.
Should Isaiah Washington have been fired from Grey's Anatomy? Absolutely NOT – he should've been kept on the show as an example!
Categories: Isaiah Washington; T.R. Knight; ABC; GLAAD; LGBT; Grey's Anatomy
Posted at 02:26 pm by
Mervin Malone
Permalink